Garage Door Repairs West Bridgford, Gamston, Edwalton & Wilford
AB Garage Door Repairs are a leading garage door repair and servicing company based in Arnold, Nottinghamshire. We have over 25 years' experience and thousands of happy customers. We provide our services across Nottinghamshire including West Bridgford, Gamston, Edwalton & Wilford and the surrounding areas.
We are a small family run business who are passionate about offering outstanding levels of customer services. We are very proud of the number of 5 Star reviews satisfied customers have awarded us, you can view these reviews on our testimonials page or by visiting our Google business page.
We appreciate the disruption that a broken garage door can create. That's why we offer a same day repair service throughout Nottinghamshire. Our team are extremely experienced and can resolve most issues quickly and efficiently and at a very competitive price.
Some Of Our Recent Repairs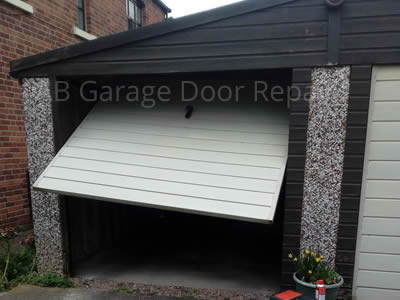 Why Choose AB Garage Door Repairs
Our service and workmanship are second to none, and we ensure that every repair we complete is done so to the highest standards. There are also a number of other benefits to choosing AB Garage Door Repairs, including;
Our dedicated team of garage door technicians have many years of experience, and there are very problems they can't fix. No matter how big or small the job we can provide you with a competitive quote and speedy repair.
We can fix both manual, and electric garage doors. Some of the most common problems we are called out to include;
Broken or Snapped Cables
Damaged or Broken Spindles
Broken Garage Door Locks
Broken Springs
Damaged Garage Door Frames
Faulty Remote Controls
Bent or Broken Door Arms
Jammed or Stuck Garage Doors
Garage Door Service
We don't just fix broken garage doors; we also offer a comprehensive garage door service. As with anything around the home that is frequently used wear and tear occur and parts can become damaged or break.
With a garage door service, we can help prevent more serious and expensive issues from occurring. After a service, your garage door will be working as well as it was when it was first fitted.
How Do Customer In West Bridgford Rate Our Service?
"I have used AB Garage Door repairs before. Highly recommended. Excellent workmanship. Very happy with the work carried for me on my garage door. Thank you."Paul Epworth
"Very good job done on repairs to how garage door very good service and price thank you."J Mason
"Thanks to AB Garage doors for the super quick and friendly service. When I couldn't access my car due to the problems with my garage door i called AB & they came out quickly which I was very impressed with. The door was fixed for a good price and I was able to carry on with my day. Thanks again!!"N Pooley